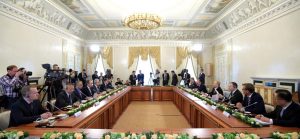 As earlier followers of this blog these past few years have seen, the foundation of pretty much every ongoing conflict in the world right now are founded in the global currency wars and energy. Global economics. A resurgent Russia and China, – the BRIC's nations – have in the wake of the 2008 economic meltdown started to push back, quite effectively, against the global financial order based on the petrodollar, and horribly managed by the reckless and decadent West.
Subsequently, we can see the narrative the Western media and government has furiously promoted of the "threats" these competitors are to the US and Western world. Follow the money, as the saying goes.
I have found this quite intriguing, and have followed the responses of these governments – who refuse to submit to the Western financial order, fascinating. Russia in particular. Putin's management of his country in the face of Western sanctions has been impressive. I was certain the energy war Saudi Arabia initiated against them and Iran would severely hamper these countries abilities more over the last few years. They have not (whole other subject).
I make no judgements on who is "right or wrong" in the global arena these days. Unfortunately, America is just as wicked as the rest of this world in rebellion against her Creator. But the final world order (Antichrist) before the return of the Lord Jesus Christ in judgment on this world and the enemies of the Jewish nation, Israel, will be Western based.
Nevertheless, it is intriguing to observe the East contend with the realities of the trends toward this today. These daily scenarios will affect everybody.
Read more… Putin's Meeting with heads of international news agencies [The Saker]
---