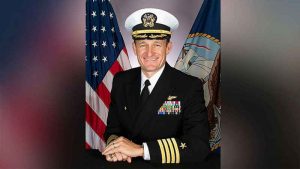 Steve Berman at The Resurgent gives some much needed insight into the sacking of Captain Brett Crozier of the USS Roosevelt after a letter about the coronavirus outbreak onboard was "leaked" (the carrier is currently berthed in Guam). Initial reports from the Navy brass was "…Crozier was dismissed due to loss of confidence and for not using his chain of command to make Navy leaders aware of his concerns about the coronavirus outbreak on the ship, acting Navy Secretary Thomas Modly announced at the Pentagon."
BREAKING: US Navy sailors on aircraft carrier in Guam break out in cheers thanking Captain Crozier and chanting his name after he was fired from his positing for protecting them pic.twitter.com/UPmaqnmApq

— Jack M. Posobiec, IWO (@JackPosobiec) April 3, 2020
Immediate blowback throughout the general Navy population and Veterans nationally and globally was pretty striking. Social media postings are making the rounds of a rousing send off of Capt. Crozier by the crew as he left the ship for the last time. A petition to reinstate him has already been launched.
From what I can garner thus far, Crozier did in fact make the effort to alert the upper echelons of the Navy of the quickly evolving scenario on board the tightly packed ship, but was quickly hobbled by the red tape the bureaucracy is notorious for, and he intuitively sensed the immediate danger to his sailors. So he, figuratively, "jumped on the grenade" to save his crew.
For those familiar with American pop culture, this probable scenario was clearly portrayed in the movie "Behind Enemy Lines" starring Owen Wilson and Gene Hackman. In the movie, Gene Hackman, as the captain of an America carrier, sacrifices his career in defiance of NATO directives to initiate a rescue mission to save his downed pilot, played by Owen Wilson. Funny how reality mirrors fiction, or vice versa.
If it does, indeed, come out that this was how the scenario went down, I think Navy Secretary Thomas Modly should be immediately sacked, for many of the valid reasons Berman states in his article. The sort of posturing here by Secretary Modly and the Navy higher ups, to basically "save face," is caustic and undermines the confidence in their questionable leadership and judgment by our brave, forward deployed sailors in these perilous times.
Read More: The Wrong Way – The Resurgent"
---
UPDATE: Mark Alexander Milley, a United States Army general and the 20th Chairman of the Joint Chiefs of Staff, is making the rounds on Twitter with the "official narrative" of the Pentagon for the sacking of USS Roosevelt Capt. Cozier. Predictably, those with the analytical thinking skills of children (and a few with clear "daddy" issues in their slobbering endorsement of Miller) fall in line.
Riddle me this, then. Probably more people have walked in space then have skippered a US nuclear aircraft carrier. It should be intuitive to even the most dull that for these men to make it to "the chair" have to be some of the most trustworthy, tested, and dependable individuals (mind, body, and spirit) to exist in the nation. Yet, we are to believe that Capt. Crozier succumbed to the laundry list of command failures propagated by the Pentagon brass in the wake of the blowback generated by their decision concerning Crozier?
Oh, please. What a crock. The whole thing stinks to high heaven, and Capt. Crozier is getting thrown under the bus to cover a lot of butts.
---
Please follow and like the blog: